One of SNA's newest LED spectaculars in Times Square is located at 1552 Broadway in the heart of Manhattan's bow tie. A revolutionary LED display that alters the face of the iconic area, the system features seven screens that are controlled either independently, together, or any combination in between.
This display is installed over the historic I. Miller shoe building at the northeast corner of Broadway and 46th Street, owned by real estate giants SL Green Realty Corp and Wharton Properties. The location is the flagship store for Express, the specialty retail apparel outlet.
Times Square's Highest-Resolution Display
In total, the digital sign system consists of approximately eight million physical pixels, the most of any LED display in Times Square. The 20-ton system contains 8,500 square feet of LED and is supported by a massive truss-like steel structure.
For such a large display, the large video screens employ a very tight pixel pitch - 10 mm - with each pixel packaged with surface-mount device (SMD) technology. This allows for an extremely wide viewing experience. The LED display also utilizes the latest high-end LED technology from Nichia, making the video system 30% more energy efficient.
To accommodate a uniquely designed curve on the Broadway-facing main screens, SNA engineered a custom cabinet and alignment system, which allowed for a seamless, fluent radius. The result: 1552's screens are the only ones that can be properly viewed from all four corners of Times Square.
The three main screens facing Broadway are stacked vertically. The top two screens (1296x1536 pixels) are 43'1" high x 48'5" wide). The bottom screen (936x1536) is 30'9" high x 37'5" wide. Each of the main displays has a 90-degree return screen of the same height and 7'9" wide (240 pixels).
Around the corner and facing 46th St. is the tallest screen (2016x864) at 66'9" x 28'5", which reaches traffic on Broadway, 46th and 7th.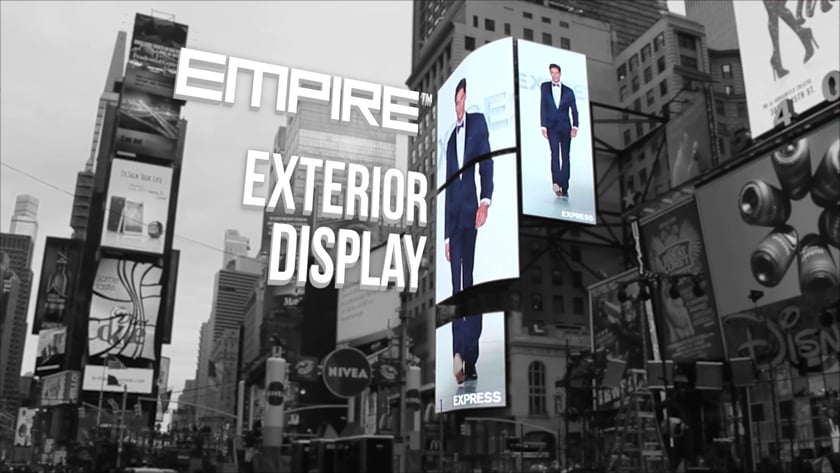 See More LED Spectaculars